Production and Quality Control
Quality Assurance and Stable Production
We have three plants with advanced production lines (the Head Office Plant, the Hisagane Plant, and the Hisagane East Plant) as the production bases for stable production of high-quality medicines.
At these plants, raw materials and packaging materials, intermediate products, and finished products undergo quality inspections throughout the entire manufacturing process. We also conduct manufacturing environment evaluations, as well as stability tests to assure post-shipment quality. The equipment and instruments used for these tests are properly maintained, managed, and validated to ensure the reliability of the test results.
The analytical instruments are centrally managed by a server to ensure data and analysis accuracy. In the event of a problem, we address through OOS, CAPA(1), deviation management, and other procedures. Regardless of the test results, we place importance on our quality assurance framework, including the test processes and methods.
Keeping up with International Standards
Our production plants, from which we have exported products worldwide for the past 20 years, conform to the GMP(2) requirements of various countries, such as Japan, the EU, and the US, while periodically responding to revisions in regulations, and we have completed compliance with PIC/S(3) GMP. In order to supply highly efficacious and safe transdermal absorption medicines not only within Japan but also to the rest of the world, we methodically conduct work with an eye to both domestic and international standards, proving worthy of the trust of our customers worldwide.
Our employees receive the education and training they need to enhance their skills and handle a wide variety of testing equipment. Understanding the purposes and meaning of the operations that they carry out leads to more reliable quality control and assurance.
(1)
OOS:
CAPA:
Out of Specification
Corrective Action&Preventive Action
(2)
GMP:
Good Manufacturing Practice(standard for production control and quality control of pharmaceutical products)
(3)
PIC/S:
Pharmaceutical Inspection Convention and Pharmaceutical Inspection
Co-operation Scheme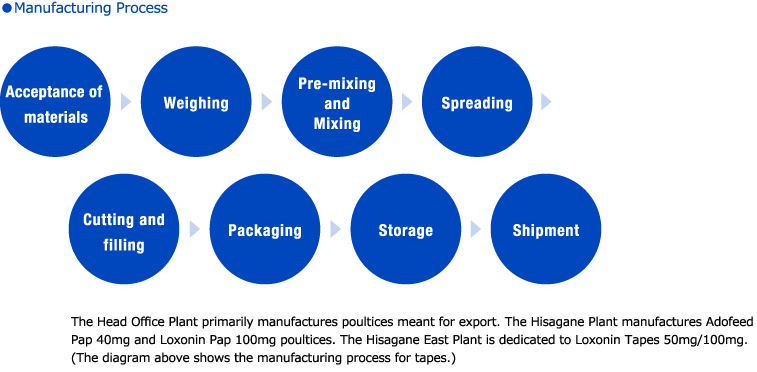 Manufacturing Lines to Achieve High Quality and Stable Production
Employees responsible for each production process work with machine manufacturers to install equipment such as pre-mixing and mixing machines appropriate for pharmaceutical production, and helping to spread machines that combine high speed with high accuracy.
Important points in each process are equipped with back-up equipment in case of failure. These all come together to provide advanced manufacturing lines, achieving high quality and safe production.