Pioneering Transdermal Absorption
The Birth of Japan's First Transdermal Medicine
In the 1960s, there were many cases of farmers who were working in rice paddies with bare feet developing toxic symptoms after spraying agricultural chemicals. At first, it was believed that they had inhaled the agrochemicals being sprayed. However, later studies revealed that the chemicals had been absorbed through their skin. This background prompted our founder Masao Mori to begin his research on the application of transdermal absorption to medical supplies.
With no precedent studies or reference literature, he searched for components and original drugs suited to transdermal absorption, and accumulated experimental and basic data. He also started up a study group for the development of external medicines, and held academic conferences and symposia. Through study groups and other activities, we successfully demonstrated that medical substances are absorbed through the skin. In 1988, we finally obtained Manufacturing and Marketing Authorization from the national government and brought to market Adofeed® , a nonsteroidal anti-inflammatory analgesic (now Adofeed® Pap 40mg) and Japan's first transdermal patch.
Following this, we developed transdermal types of Loxonin® , a top brand of oral anti-inflammatory analgesic, and the following products were brought to market by Daiichi Sankyo: Loxonin® Pap 100mg in 2006, and Loxonin® Tape 50mg and Loxonin® Tape 100mg in 2008. These are now some of Japan's most common prescription anti-inflammatory analgesics.
Moreover, in 2016, we newly launched Loxonin®S Pap, Loxonin®S Tape and Loxonin®S Tape L from Daiichi Sankyo Healthcare Co., Ltd. as pharmaceutical products requiring guidance (behind-the-counter products).
Transdermal Absorption System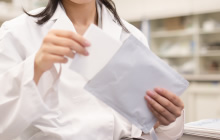 The ideals of medicine could be said to be the right amount, at the right time, to the right location. Among the Drug Delivery Systems (DDSs) that aim to achieve this ideal, the Transdermal Therapeutic System (TTS) offers particularly excellent efficacy, convenience and safety. The TTS causes the medication to be absorbed and permeated through the skin, thereby delivering it to the affected part without being influenced by digestive tract absorption or liver metabolism. While reducing the side effects on the digestive tract, it maintains stable efficacy for a longer time and allows for easier administration. In addition, it can be easily administered to elderly people and children, who may have difficulty with swallowing medicines, and causes no pain, unlike injections.